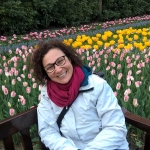 Surprises sent:
12
Surprises received:
10
Surprises in progress:
2
Country:
Italy
Languages:
Italian, English, French Spanish
Member since:
31 March 2022
Last activity:
13 August 2022
Hello! I'm Susanna, from Rome (Italy).

I've studied literature and linguistics.
I like to:
travel
take long walks
visit Rome like a tourist (there is always something to discover)
read - novels, poetry, drama, essays
cook (and eat ;-))
write and receive postcards
go to the cinema, the theater and the opera house.

I love stationery, bookmarks, magnets, stickers, postcards and everything related to books.

I will like everything you want to send me, but please do not send coins nor banconotes.

I adore surprises, don't you?