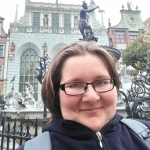 Surprises sent:
71
Surprises received:
54
Surprises in progress:
3
Country:
Poland
Languages:
polish, english
Member since:
14 May 2021
Last activity:
30 November 2022
Hi, my names is Beata (Betty)and my surname is Zielonka (into English Green) from Poland. So i have these nick.

I love write long letters and read books.I love going for walks with my dogs from shelder.

I am polish teacher and I teach in Primary School for blind.

I like stickers, magnets and postcards. Please send me poscard with your city.

If you like to be my penfriend, just give my your adress and i will sent long letters to you!