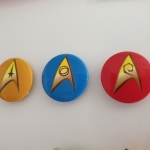 Surprises sent:
169
Surprises received:
184
Surprises in progress:
3
Country:
Sweden
Languages:
English and Swedish
Member since:
02 August 2017
Last activity:
09 June 2021
I am a huge Star Trek fan. I love everything about Star Trek, the films, stamps, magazines, pictures and postcards.
I am also a fan of David Bowie.

What can I wish for more? Blank postcards, even folded cards with cute pictures, like cats, babies, flowers, fairy tales, Edition Tausenschön, glittering cards, Christmas, New Year and Estern. If you want to send me postcards, pls no touristic cards over your city or country.
Nice stickers to put on envelopes.
I am also a papercrafter, so nice papers are very welcome and also washi stickers.
Origami paper
Old photos
Victorian scraps
I also love to get an old letter with nice handwriting. It's very hard to find any in a flea market.
But you can also surprise me, I will be happy for everything you put an effort in.

But pls no tea bags, I just drink my favourite tea - Damann Freres Passion de Fleurs
Nor I want your money, tickets or magnets, pls send thoose things to people who appreciate it.