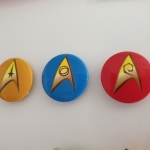 Surprises sent:
258
Surprises received:
264
Surprises in progress:
6
Country:
Sweden
Languages:
English and Swedish
Member since:
02 August 2017
Last activity:
22 September 2022
I am a huge Star Trek fan. I love everything about Star Trek, the films, stamps, magazines, pictures and postcards.
I am also a fan of David Bowie.

What can I wish for more?

I am a papercrafter, so nice papers are very welcome and also washi stickers.
Origami paper
Old photos
Victorian scraps
I also love to get an old letter with nice handwriting. It's very hard to find any in a flea market.
But you can also surprise me, I will be happy for everything you put an effort in.

But pls no tea bags, I just drink my favourite tea - Damann Freres Passion de Fleurs
Nor I want your money, tickets or magnets, pls send thoose things to people who appreciate it.