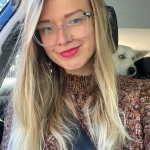 Surprises sent:
13
Surprises received:
10
Surprises in progress:
5
Country:
France
Languages:
Russian, English, French, Spanish
Member since:
27 August 2022
Last activity:
03 December 2022
Hello. My name is Lisa, 27 y.o. I am originally from Eastern Siberia, Irkutsk. (It's near sacred and unique Lake Baikal), now I live in the French Apls, Chamonix-Mont-Blanc.
I'm a prof, translator and entrepreneur. I live just at the bottom of Mont-Blanc.

I'd be glad to recieve any postcards, especcially with:

✔️ nature (preferably single view)
✔️views of your place
✔️buildings
✔️animals
✔️anything connected with the history and culture of your place
✔️maxicards
✔️ planes, trains
✔️ flags, coats of arms
✔️ maps
✔️ postcards from your journeys
✔️ books, recipes
✔️ Lord of the Rings
✔️ beaches
✔️ languages
✔️ handmade postcards (it's totally up to your creativity)
✔️ trees, plants, flowers
✔️ music, concerts (I'm mostly into indie rock)
✔️ geology, astronomy, science in general

I'd be happy if you could put something like a coin from your place or a bag of your favourite tea, maybe cute stickers, stamps, magnets, drawings, photos, book marks, flower seeds, dried leaves or flowers from your local forest or … anything you want. It would be indeed special. I'm excited to receive your surprise! :)

Don't hesitate to write about yourself. If you want to have a penpal, just write to me a letter, I'll answer you!

Thank you!