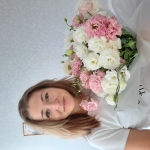 Surprises sent:
14
Surprises received:
10
Surprises in progress:
2
Country:
Russia
Languages:
russian, english
Member since:
27 January 2022
Last activity:
17 January 2023
Hello everyone. My name is Anna. I am 34 years old. I live in a small town with my daughters. we also have 3 cats and 2 ant farms. I am a biologist by education. I really love nature, walking in the woods, picking herbs and flowers. my children and I love to travel, collect legos and watch cartoons. my hobby is needlework. I love crocheting. I like anime, especially Sailor Moon and Hayao Miyazaki. We Also Love The Harry Potter Universe. I love everything, which is related to LEGO! My favorite dog is a schnauzer! I like to exchange postcards and letters. I love stamps. We can become pen pals.
***
Please send me postcards, stamps, tea bags, flower seeds, stickers. or anything related to my interests. Thanks!