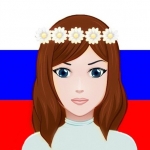 Surprises sent:
5
Surprises received:
5
Surprises in progress:
0
Country:
Russia
Languages:
Russian, English
Member since:
06 September 2020
Last activity:
24 May 2021
Hello! My name is Maria. I'm an English tutor.
I'm happy to receive all kinds of mail! Just a tip for you in case you don't know what to send: I appreciate postcards, magnets, stamps and coins from your country.♥️ I also like all kinds of stationery - stickers, beautiful paper clips etc.