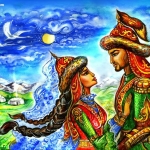 Surprises sent:
41
Surprises received:
39
Surprises in progress:
3
Country:
Kazakhstan
Languages:
russian, English
Member since:
07 March 2021
Last activity:
13 August 2022
Hi my name is Olesya-I'm from Kazakhstan. I have 4 children.

I like reading,traveling, and postcrossing.
You can send me postcards (please no tourist postcards), postcard with books,Maxicard, mini sheets, stamps-food,butterfly, car,roses,bird, baby, clothes. Stickers, ,scrapbooking paper,wash tape,magnets.