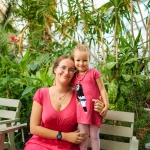 Surprises sent:
15
Surprises received:
14
Surprises in progress:
0
Country:
Russia
Languages:
Member since:
09 March 2021
Last activity:
04 November 2022
My name is Anna. I live with My family in Russian in the city of St. Petetsburg.
I have a daughter, Alice. She is 5 years old. She is veru fond of receiving mail and is the first to look at all the postcards and open the envelopes.