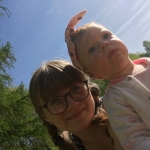 Surprises sent:
2
Surprises received:
0
Surprises in progress:
0
Country:
Lithuania
Languages:
Русский, English
Member since:
04 December 2020
Last activity:
11 February 2021
Hi! My name is Veronika. I'm 27. I like interesting books, animals, beautiful nature, traveling, new places and new people. My main hobby after postcrossing is playing board games.
I'll be glad to receive from you any cards. I especially liked the card with the image of:
- dogs
- panda bear
- koala bear
- pin up
- planes
- coffee/tea
- books
- cartoons
- Harry Potter
- Disney
- children
Write a little more about yourself, your favorite books and writer, dreams and your country history. And write a few words in your own language please.
I'll be happy to receive stickers, newspaper fragments, coins and whatever you want to send me
Have a nice day!
With love. Veronika.