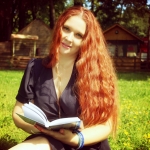 Surprises sent:
58
Surprises received:
61
Surprises in progress:
3
Country:
Russia
Languages:
English, Russian, Turkish
Member since:
07 March 2021
Last activity:
02 October 2022
Hi!
My name is Natalia. I'm from Russia.

I love reading, tea, especially green. Postcards, stamps, magnets, coins, notebooks, bookmarks, stickers, scotch tape, clippings, stamps, glitters, cardmaximums, tea, coffee bags, sweets, bags with cosmetics, seeds are welcome.

Themes for surprises:
- Keanu Reeves;
- Alan Rickman;
- British Royal Family;
- Harry Potter;
- Alice in Wonderland;
- Disney;
- Star wars;
- The Witcher;
- Keep Calm and;
- Mumintroll;
- Dragons and dinosaurs;
- The Lord of the Rings;
- The X-Files
- Timeless;
- Charmed;
- Twilight;
- Downton Abbey;
- Sesame Street;
- Fraggle Rock;
- The Muppet Show;
- Anne of Green Gables/Anne with an E;
- works of Jane Austen and the Brontë sisters;
- Howl's Moving Castle;
- Nouvelle;
- tausendschön;
- loupaper;
- fantasy (fairies, elves, fairy creatures);
- fairy tales;
- World Turtle;
- cats;
- foxes;
- white wolfs;
- the magic.
- Robert John Downey Jr.;
- Harrison Ford;
- David Duchovny;
- prehistoric animals and plants.
- İstanbul

I like surprises.
If you speak Turkish, please write to me in that language.

I love receiving your letters. And I am very grateful to you for each of them. Thank you! Take care of yourself.