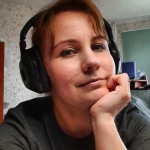 Surprises sent:
6
Surprises received:
4
Surprises in progress:
0
Country:
Russia
Languages:
Russian, English
Member since:
05 March 2022
Last activity:
01 August 2022
Hello World!
I was born and live in Moscow, married, happy, I have 2 children and a dog. I am surrounded and occupied by many things. I welcome all postcards, this is part of my postcrossing story. If you are curious, here are the topics that resonate in my life.
---
♥ WOLVES, werewolves, wargs, jackals, hyenas, hyena dogs, maned wolves (by education I am a biologist and studied wolves).
♥ EL DIA DE MUERTOS, La Calavera de la Catrina;
♥ ORCAS, whales, sperm whales, narwhals - (killer whales are called "sea wolves", so they are also close to me). I am passionate about the life and work of the Cousteau team and the books of Jacques Yves Cousteau. A touching history of the Calypso ship.
♥ BIRDS, esp.kakapo, takahē, Australian brushturkey, common and rare, your local species is very interesting to me, I love watching birds and went on an expedition to ring them.
♥ US STATE BIRDS AND FLOWERS ♥
♥ State ALABAMA - I love you!
♥ WILD ANIMALS - thanks to the books of Gerald Durrell, James Herriot and many others.
♥ MUSIC, rock, metal, guitars, motorcycles and leather jackets are part of my world, I used to have a motorcycle and ride with bikers like the Night Wolf. But - don't laugh! - I love Depeche Mod. My husband is a guitarist and drummer. The neighbors hate us. Haha, joke!
♥ HORSES, cowboys, show jumping, steeplechase - I have been horseback riding for 10 years, but after a spinal injury I will never sit in the saddle again. But horses are still my great love! Horses, saddles, stables, cowboys and all that dung romance. :)
♥ I like KELPIE - hello, Scotland!
♥ I love the TWILIGHT. And films about werewolves.
♥ MARVEL is my Universe, Black Panther, Avengers, Captain America, Iron Man and other heroes.
♥ HARRY POTTER is my favorite NewYear movie. I collect postcards with HAGRID!
♥ BOOKS give me a lot too - thanks to TOLKIEN, I met my husband at the role-playing birthday party. He's an elf, and I'm a werewolf. I wonder who our children are?.. I would like to visit Lorien, at least in a dream. Roger Zelazny's books gave me the world of Amber.
♥ ANIME - "Wolf Rain", "Gankutsuo: The Count of Monte Cristo", "Mononoke" (about the pharmacist), "Spice and Wolf", "Azumanga Daioh".
♥ DOGS - are my friends all my life, especially I love wire-haired dachshunds.
♥ I write letters with FOUNTAIN PEN and INK.
♥ red WINE Mourvèdre and Malbec, vineyard, barrel (my friend is a sommelier). If you send me a wine label at the same time, I will be happy.
♥ COVID19 - unfortunately hot topic
I like postcards (ad and promotional postcard too!), photos, brochures, bus ticket, used stamps, stickers, newspaper clipping, drawings and little letter from you.