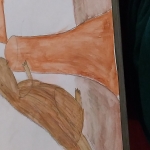 Surprises sent:
3
Surprises received:
2
Surprises in progress:
1
Country:
United States of America
Languages:
English
Member since:
01 September 2021
Last activity:
17 October 2021
Hello world of ladies and gents. I truly enjoy the experience of trading postcards washi stamps and stickers . I enjoy various kinds and truly appreciate the postcarding experience.

Some postcards I enjoy are
Exotic birds
Flowers
Unesco
Landmarks
Landscapes sunsets.
Blue cats.
Looney Tunes
Archie Comics
Stickers and stamps washi are welcome too. See you soon.