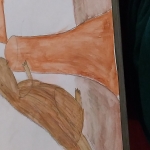 Surprises sent:
59
Surprises received:
51
Surprises in progress:
7
Country:
United States of America
Languages:
English
Member since:
01 September 2021
Last activity:
04 December 2022
Hello All. I truly enjoy the delightful idea of Suprises in the mailbox. I enjoy it all such as stickers postcards bank notes stamps coins washi any thing I am grateful. See you all soon.

Some things I truly collect and enjoy are.
Looney Tunes
Archie Comics
Stamps for my book.

Delia.