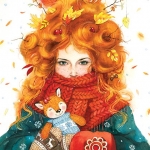 Surprises sent:
12
Surprises received:
12
Surprises in progress:
0
Country:
Italy
Languages:
english italian a bit of german and French
Member since:
12 January 2018
Last activity:
23 April 2018
I 've recently joined Postcrossing.com , which i adore!I dedicate a lot of time to it as it's really great . Just like this one!!!
I especially like to gather colourful stamps (used is ok) , shape cards, (i LOOOOOVE stamps!!!) business cards (which my husband collects) , whatever is colourful and child-like. ahahaha, postcards with illustration for example.
i appreciate all hand-made cards

PS: my latest craze is collecting postcards with red-hair people! Just like me!
I also love dogs cats and pets in general ,a lot

please tell me something about yourself!

ciao, i think this is a wondrous idea!
enjoy!
i think , at the end of the day, any surprise is great,,as it is a surprise ,after all , so thank you in advance! To all!