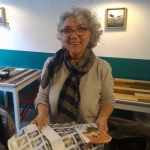 Surprises sent:
30
Surprises received:
31
Surprises in progress:
0
Country:
Italy
Languages:
English, Italian
Member since:
12 January 2018
Last activity:
20 November 2018
I'm Maria Teresa (Terry). I'm 60 years old and I live in Padua, Italy.
I like reading, writing and painting, scrapbooking, Kraft, bullet journal, happy mail! Cards and letters. I,love walking in mountain. I like sticker, paper for scrap and quilling.
I love tea.
And I love postcrossing.