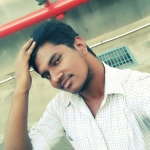 Surprises sent:
41
Surprises received:
23
Surprises in progress:
0
Country:
India
Languages:
Telugu,Tamil,English
Member since:
21 January 2018
Last activity:
29 May 2019
ABOUT ME
Hiii dear friends,sisters,brothers.... This is Kousika Kumar A ....... I am also a Numismatist, since I am collecting the currency and coin I will never going to ask to stick or send the currency or coins with postcards,if you are interested wholeheartedly you can send me a coins,currency,stamps...

I am a Philatelist (study of stamps) and I like to collect the various countries stamps,so please please stick a lot of different stamps in postcard and send I will be thankful to you.


please send a fridge magnets,,,,,

I am pursuing my M Tech in Renewable Energy Technologies.

ABOUT ME
Jovial,easy go person,caring,introvert......
MY HOBBIES
Listening to music, Sports like badminton, cricket, and finally philately,numismatics..
I LIKE
Chocolates ,rain, nature,ice cream's.......
I LIVE IN
India, Tamil Nadu, Salem.