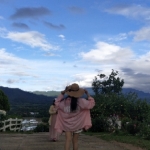 Surprises sent:
1
Surprises received:
1
Surprises in progress:
0
Country:
China
Languages:
Chinese, English
Member since:
07 October 2018
Last activity:
06 June 2019
Hi,I am Coralie(Xinyi Wang or 王昕怡). I am from Hangzhou,Zhejiang, China.
I am a student in Zhejiang Normal University.
I like collecting stamps ,coins and tickets.
I like all cartoon movies of DISNEY. Especially,Zootopia,Frozen.
Harry Potteris my favorite, too.

Thank you and best wishes.