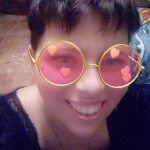 Surprises sent:
23
Surprises received:
22
Surprises in progress:
3
Country:
Italy
Languages:
italiano
Member since:
22 March 2018
Last activity:
29 May 2020
my name is michela ,
i love ireland fairy, montain wood, animal, photo......
harry potter, the big bang theory, wrote to my penfriends.....i like love!
i like color!
I love many things, but especially Christmas !!!
  Write to me if you feel like it, send me something from your country you like, or something you like in particular .... thanks to who will write to me !!!!!!!