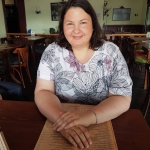 Surprises sent:
14
Surprises received:
18
Surprises in progress:
0
Country:
Germany
Languages:
deutsch, francais, English, espanol, português
Member since:
02 August 2018
Last activity:
30 April 2019
Hi!

I'm Rosi from a small town near Hamburg in the north of Germany. I live with my wonderful French boyfriend with whom I've been together for over 8 years.

I'm fond of languages (besides German and English, I'm fluent in French and have an okay level of Spanish and Portuguese), cross stitching, cooking and baking, art exhibitions, big cats (especially tigers and lynxes), seals, chocolate, black and orange flavoured tea, bowling, Paris, Jane Austen's novels, Japanese girls' mangas, reading in general and picture postcards from around the world.

I've been a vegetarian for most of my life and love to try new veggie food. Veggie recipes on postcards or cut out of magazines or copied on a piece of paper in one of the languages I speak are very welcome. Maybe I can travel around the world in my kitchen.

You can also send me recipes in Polish or Italian. I have a lovely Polish colleague who is fluent in Italian and who loves cooking, too. She'll be happy to translate the recipes for me and to share the result in our lunch break. :-)

If you have some samples of shower gel, perfume, facials, etc. I'm happy to try them out.

My all time favourite TV series is Gilmore Girls and I love to watch Hindi films. My boyfriend and I like to go to concerts and have recently seen Rea Garvey and Hozier in Hamburg. Next show will be "Simply the best" in Kiel in March and in May, we will see my favourite singer Patrick Bruel in Dunkirk, France - I can't wait!

I'm trying to learn Swedish at the moment so a pixi book (or any other mini book for children) in Swedish would make my day.

If something funny, touching or unusual happened at your wedding or a wedding you attended to, please tell me about it. I love these stories.

I'm looking forward to hearing from you.