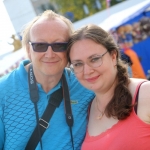 Surprises sent:
14
Surprises received:
15
Surprises in progress:
0
Country:
Russia
Languages:
English, русский.
Member since:
06 June 2018
Last activity:
16 March 2019
Я предпочитаю почтовые марки, малые листы, почтовые блоки, бумажные деньги, металлические монеты, открытки любых государств, кроме стран: СССР, России, Экваториальной Гвинеи и арабских эмиратов. Мне нравятся сюжеты на открытках: виды городов, люди в национальных костюмах, географические карты.

I prefer postal stamps, small sheets, postal blocks, paper money, metal coins, postcards of any countries, except countries: the USSR, Russia, Equatorial Guinea and the Arab Emirates. I like such cards: kinds of cities, people in national costumes, maps.