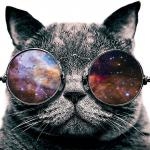 Surprises sent:
3
Surprises received:
3
Surprises in progress:
0
Country:
Russia
Languages:
English, Russian, German
Member since:
03 March 2021
Last activity:
10 July 2021
Hi!
I'm Polina and live in Moscow.
I would be glad to receive cards and other things from your place telling something about architecture or nature of your country/city.
I like Harry Potter, Supernatural, cozy things, birds, magic, books, flowers. Some of my favourite themes are: nature - forests, lakes, seas, oceans, mountaines; botanical illustrations, lighthouses, beautiful paintings. I like good and kind illistrations as well.

I'm intrested in handmade. If you like to do mail art, please do! I really like creative works.

You can send me
- a blank card (with the written one),
- your favourite tea,
- a photo you made,
- stamps of your country,
- stikers, washi tapes or scrappaper,
- bookmarks
- mini crossstitch kit if possible
and some other things at your choice:)

I have a crow (a grey crow), a parrot and a hedgehog at home.
Now I study at university (do a Master's degree) and have a bachelor diploma in law.
Like walking, dancing (was training in ballroom and sport dancing for 15 years), taking photos (nature, people) and crossstitching.

I would be glad to read something about you, your place, hobbies. You can write about your favourite books, films and series, special places where you have been, some intresting stories, facts about you or your country/city/place. Tell me please about your pets, if you have them:)

I want to share perfect mood with you✨
Take care of yourself!