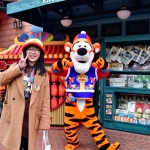 Surprises sent:
7
Surprises received:
6
Surprises in progress:
5
Country:
China
Languages:
Chinese/English/Japanese
Member since:
14 March 2022
Last activity:
16 November 2022
Hello, my name is Sunny. I was born in Harbin, China.
I'm a figure skating fan and I stand for Boyang JIN and Mao ASADA.
I love visiting museums, church, collecting toys and teddies made by artists.
I love "Winnie the Pooh"(especially piglet), Studio Ghibli's production, Pixar and Natsume's Book of Friends.

If you could send me anything about them I will be extremely happy. Please be free if you don't have them, anything you carefully prepared is welcomed.

But pls DO NOT SEND ME anything about:
Yuzuru HANYU, Death, skull/skeleton and other terrified stuff, politics

Thank you so much for your sending!