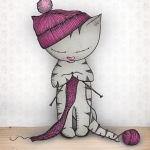 Surprises sent:
36
Surprises received:
34
Surprises in progress:
1
Country:
Russia
Languages:
Russia Spanish Ingl
Member since:
20 May 2021
Last activity:
06 December 2022
Warm greetings to all from the Arctic Circle! My name is Anastasia and I live in the city of Murmansk. My city is distinguished for me by the fact that we have a Polar Night (when the sun does not appear at all, it is always dark) and a Polar day (when it, respectively, does not set below the horizon). I have been an active postcrosser for 4 years and now I have registered here :) I really like the surprise envelope theme. I really like the New Year's Eve campaign "Secret Santa", when participants and participants send each other gifts.

What would I like to see in a surprise envelope? That's it! :) Let your envelope become a reflection of yourself, your country and culture. If you are from Spain, then I will be just happy!

If you find it difficult to choose what to put in an envelope, then here are a few topics that I like- horses (unicorns, Pegasus, ponies, fantasy), game Of thrones, the Witcher, the owl house, Harry Potter, guinea pig, capybara, dragons, fairies, witches, Disney and Dreamworks cartoons, specially Elsa from "Frozen"!, Gravity Falls, cosmos, LGBT PERSON, mermaid, Doctor Who, Lady Bug and cat Noir, dream hunters, TV series " Good omens", dinosaurs, deer, Loki from Marvel,books (I really read a lot!), crochet and keep a diary.

It would also be great to receive themed envelopes before the holidays (Halloween, Christmas). Whatever you send, it will be magical! I have been studying Spanish for a very long time and I dream of visiting this beautiful country.
I wish you all peace in this difficult time, good health and, of course, more surprises! After all, we are all one big wonderful world!