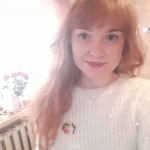 Surprises sent:
33
Surprises received:
17
Surprises in progress:
0
Country:
Russia
Languages:
English, Russian
Member since:
28 July 2021
Last activity:
18 June 2022
Hello! I hope you're fine.
My name is Anastasia. I like to send little things (not only postcards), so I came here. You can send me anything from your country.
Good luck and stay healthy!