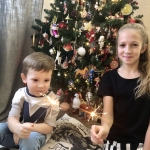 Surprises sent:
31
Surprises received:
34
Surprises in progress:
2
Country:
Russia
Languages:
English ,русский
Member since:
21 January 2021
Last activity:
23 November 2022
Hello everyone Dear friends, my name is Katerina,I live in the city of Volgograd ,I have two children and a wonderful husband ! Daughter Angelica is 12 years old and son Misha is 3 years old ! I love beautiful postcards ,especially landscapes ,New Year and Christmas ,unusual ,luminous,shiny, with a changing picture ! really like postcards with wooden houses and the image of the village, geese, roosters, cows..... I love bears, cars, trains and planes! I love travel and family comfort home accessories are my weakness ! I collect stamps,tea bags,calendars, socks (size 36) and earrings,plant seeds! I will be very happy with a small Christmas decoration, maybe a cardboard toy for the Christmas tree !
It will be cool if you send a candy or chewing gum ! My children will be insanely happy!!!