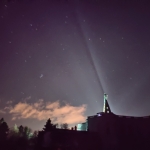 Surprises sent:
49
Surprises received:
56
Surprises in progress:
3
Country:
Germany
Languages:
German, English
Member since:
07 October 2021
Last activity:
13 August 2022
Hello everyone,

I'm always happy about little beauty and humour in my life. I'm actually a very happy and humorous person which does not mean there can't be dark times
I also do postcrossing (so I'm always happy to receive postcards) and am a snail mailer, I just love opening my mailbox and find nice mail. I'm still looking for penpals, the country doesn't matter, but I would love to get to know people from Russia or China (but anywhere else, too).
So maybe a few words about me. I'm 38, female, married. My wife and I have two daughters, I love reading and I'm a social worker by profession.

I love Terry Pratchett and Alice in Wonderland, Moomins, Gillian Anderson and many other things.
I like tea and little coins from non-Euro countries, but really I'm happy about every letter I receive, so feel free to send whatever you feel like sending.

And my user name actually is a typo...