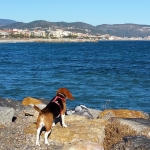 Surprises sent:
5
Surprises received:
3
Surprises in progress:
1
Country:
Italy
Languages:
Italian, English
Member since:
04 January 2021
Last activity:
01 May 2021
Ciao! My name's Barbara.
I live in a small sea village on the west side of the Ligurian Riviera, Italy.
I like photography very much, as well as cinema. I love art, pictures of dancers, tourist and folk illustrated postcards (unwritten), used stamps, eraser in funny shapes, bookmarks, stickers of every type (I collect world travel stickers).
I love nature, the sea, flowers, trees, animals... I love everything which is about Siberian cats and beagles dogs, like my pets: Isabeau, a 12 years old blue-cream Siberian and Maggie a 9 years old beagle!

Every surprise is welcome, especially something typical of your country that tells me a little about you.
Unwritten postcards are always more than welcome.
Please, always try to write a letter or a few words about you, to accompany the surprises. :)
Thank you and enjoy!