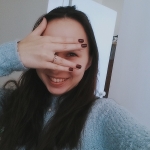 Surprises sent:
6
Surprises received:
6
Surprises in progress:
0
Country:
Russia
Languages:
english, Русский
Member since:
15 May 2021
Last activity:
10 February 2022
Hello friends! My name is Mariya.
I will be glad to meet new people.Tell me what is interesting happening in your city, what large-scale holiday do you celebrate? Write about something interesting you recently learned, your favorite quote. What is your favorite book?. What makes you happy?

I will be happy to receive postcards on the following topics:
- books,libraries,reading,writers;
- Harry Potter, A Song of Ice and Fire, The Hobbit, How to Train Your Dragon;
- dragons,dinosaurs and other fantastic creatures;
- views of your city and country;
- arts and illustrations;
- animals (whales,horses,owls,foxes etc.);
- types of our planet;
- national food,fruits, etc .;
- flowers, especially peonies;
- art of Hayao Miyazaki cartoons;
- reproductions of paintings;
- vintage (clothing,embroidery,cities etc.);
- or whatever you yourself want to send me.
I would also be glad to home-made postcards and postcards in envelopes with your favorite tea, stickers, views of your city, leaflets from your favorite cafe, tickets and whatever comes to mind.
Please indicate the date.