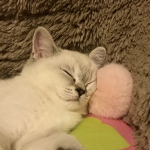 Surprises sent:
13
Surprises received:
10
Surprises in progress:
0
Country:
Russia
Languages:
Russian, English
Member since:
04 April 2021
Last activity:
10 October 2022
Hello! I am Aliona (Алёна in Russian) I like traveling and I want to visit many different countries. I live in a big city, but prefer my village where I spend my holidays. I have a hobby: I like making jewelry with real flowers inside. I love tea very much, I can drink it all day and I want to try as many different types of tea as possible. I'm collecting postal stamps, also I like blank postcards (but if it is a picture of your city/country, please sign it for me) beautiful stickers, sweets and other interesting things.

I wish you all the best!!