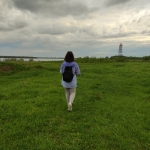 Surprises sent:
2
Surprises received:
2
Surprises in progress:
0
Country:
Russia
Languages:
Russian, English
Member since:
05 August 2022
Last activity:
20 November 2022
Hello, everyone!
My name is Maria and I live in the northern part of Russia. The Arctic zone of my country begins here. My city is a commercial and industrial sea-river port. You can see many different ships (including icebreakers) on every walk along the embankment.
I'm 22 and I'm ex-medical student. Last year I was supposed to become a pharmacist, but I was unable to complete my studies due to health problems. Now, after a long treatment and resting, I'm a student again and studying to be a librarian.
My dream is to get a cat and travel around the world, because there are many beautiful places and wonderful people on our planet, that I'd like to see!
I'm also a person who loves art. Music, dancing, singing, playing piano and guitar, theater and drawing are part of my life. I'm also interested in foreign languages and culture of other countries. Sewing, embroidery, knitting and pottery is also my hobby.
I love reading, especially paper books, but sometimes I also watch Disney animation or fairytale/fantastic films.
Sushi, pizza and donuts with vanilla cappuccino - my favorite food:)

I love surprises, so I'll be glad to receive an envelope/package with any contents inside. Be imaginative!
If you don't have any ideas at all, then here is a small list:
- postcards
- stickers
- stamps
- bookmarks
- coins
- magnets
- cosmetic sample
- medical gizmos (for example, a patch or sachet with vitamins)
- bags of dried herbs or flowers
I also make a cooking collection, so I'll be happy to receive tea bags, coffee, sugar, salt, spices, candy or bubble gums from your country.

All the best! My warmest wishes:) See you in the mailbox:) Bye!