Profile Bordercolliemom59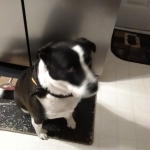 Surprises sent:
50
Surprises received:
42
Surprises in progress:
2
Country:
United States of America
Languages:
English
Member since:
07 June 2021
Last activity:
30 September 2022
i love letter writing . I also love tucking in little suprises with the letters . you will never know what you will get in an envelope from me . I collect post cards and bookmarks , washi tape and stickers (no kiddie one though please ). those are great for me if you want to send those tucked in an envelope . I collect tea pots and still have my brown betty teapot from London england that grand bought me while i and she were there .please dont send herbal tea im allergic to herbal teas . I love regular tea including loose leaf but please make sure if you send me some it is sealed tightly . Thanks .
I love gardening and dogs and I currently have 4 dogs . I have rescued from various places .I also do volunteer work with the fosters to try and help . I love this site and have met so many amazing people through this site .
Last 10 surprises received