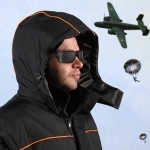 Surprises sent:
2
Surprises received:
2
Surprises in progress:
0
Country:
Russia
Languages:
English, Russian
Member since:
07 May 2019
Last activity:
28 January 2021
Hello!

I'd be happy with things like current low value banknotes (no Euros or US$) or expired,
cult/religious/sacred objects (Avalokiteshvara, Salgye du Dalma, Tapihritsa),

WWII letters/cards from front, old black and white photographs...
restaurant menu cards, (old) paper maps!

Design artifacts like -
Military/police/medical (or other official uniform) patches!! or insignia,
expired unneeded ID's/passports (permission documents in general),
medical, police, factory blanks or official papers/documents, certificates, prescriptions, licences, official papers (with guilloche pattern), electrical hazard stickers, safety posters, etc

elementary school notebook with handwriting practicing,

insects

as well as national crafts related ! ░

Best wishes!