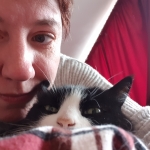 Surprises sent:
2
Surprises received:
3
Surprises in progress:
0
Country:
Germany
Languages:
German, English, a bit French, Swedish and Icelandic
Member since:
26 April 2020
Last activity:
08 June 2020
Hello world!
As an avid letter writer and paper lover, this had to happen someday - me stumbling over this page. I'm happy to be here and can't wait to share surprises via mail!
What would I desire from you?
I'm interested in your life and thoughts, so a short (or, if you like, longer) handwritten reflection on your day would be great. Or whatever you'd like to share. Your favourite poem, a newspaper clipping (no matter the language - I'll figure it out, or I'll ask you), a recipe, a tea bag, a printed photo of your favourite coffee mug...or just a piece of interesting paper or fabric.
I'm living near big city Hamburg in the north of Germany with my husband and our cat Susi.
I love to cook, bake, read, walk, knit, sew, read, write letters, paper craft, read... I love the ocean and forests, quietness and nature sounds. And sometimes even loud music.