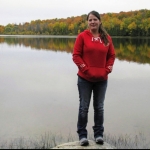 Surprises sent:
2
Surprises received:
1
Surprises in progress:
0
Country:
United States of America
Languages:
English
Member since:
29 September 2021
Last activity:
15 January 2022
Hello! Nice to meet you! My name is Kristy and live just outside Detroit, Michigan. I enjoy spending time outdoors in nature, hiking, canoeing, traveling when possible. I am a mail carrier for U.S Postal Service over 20 years. I have 3 dogs, 1 senior cat, a few stray cats that come around occasionally, and an African Grey Parrot.

I enjoy hearing about other countries and seeing different cultures and beautiful places, and all that in between. The different religions, superstitions, holidays, celebrations, favorite food/drink , place to spend the day, and new adventures.

Some ideas to send, tourist postcards of where you live, paper advertising, local maps, tickets, receipts, recipes, stationary, folded unwritten holiday cards with envelopes, used stamps, stickers, candy, magnets, ink pens, linens, postal related items. :) I love animals, maybe an advertisement for a local zoo or similar.

I look forward to anything you decide and it will make me happy. Cheers to fun things filling all mailboxes.