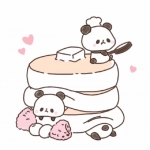 Surprises sent:
11
Surprises received:
9
Surprises in progress:
6
Country:
United States of America
Languages:
English
Member since:
12 June 2022
Last activity:
23 January 2023
Hello! I am a veteran member on postcrossing that just found out about this site. I love swapping surprises! I'm 41, happily married, lots of pets.

My favorite things are numerous but they include: kawaii, Japanese culture, anything sparkly, handmade items, vintage toys and dolls, and small wrapped gifts. I love weird and unusual things. Postcards and mail art too.

I love to craft and thrift and travel. I'm so excited to be here!

Could you please write "you've got mail" or "send a surprise" on the back of the envelope please?