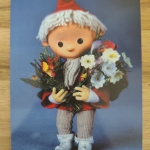 Surprises sent:
7
Surprises received:
8
Surprises in progress:
1
Country:
Germany
Languages:
German, English (Mama)
Member since:
25 April 2022
Last activity:
29 September 2022
Hello,

my name is Mia. I am 6 years old. My mom helps me with this, but I love receiving and sending letters. I like tea, stickers, letters, colouring pages, Peppa Pig, Robin Hood, unicorns, Paw Patrol, Frozen, Super Mario.

I'm looking forwards to read from you.