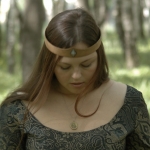 Surprises sent:
2
Surprises received:
1
Surprises in progress:
0
Country:
Russia
Languages:
English, Russian, Spanish
Member since:
04 March 2021
Last activity:
19 April 2021
Hello,
My name is Glori.

I'm fond of paper letters, I have been writing such letters for more than twenty five years. I also love to get some kinds of old letters with real and nice handwriting. Stamps are my fabulous love!!!
Vintage things are so great!
Also I like to write different diaries and notebooks. I adore papers, coins and different tickets of museums or trasnport - I would be so thankful for those things.
Post cards are also in my area of collecting, such as: The Moon, Cosmos, knights, old clocks, Middle Earth of Tolkien and so on...

But please no tea bags, stickers or magnets, or anything with animals or sports. I don't like and don't keep them. Please send those things to people who appreciate it.