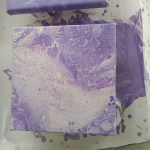 Surprises sent:
4
Surprises received:
4
Surprises in progress:
0
Country:
United States of America
Languages:
English
Member since:
25 September 2019
Last activity:
23 February 2020
I am the oldest of 3 and the only girl with Michael 4 years and Andrew 10 years younger then me.

I work at a health insurance company in Philadelphia and have been there over 11 years.

My hobbies are photography, pen-paling, reading, paper crafting, paint pouring and sewing.

I have 3 dogs. Milo a Chihuahua, Lola a Yorkshire, Lhasa Apso, Poodle and Nemo who is a Chihuahua rescue.

***************FAVORITES********************

COLORS: blue, yellow, orange, lavender and light green.

MUSIC: Listen to anything but Country and Christian Rock. I enjoy finding eclectic songs on Spotify and creating playlists to listen to while I walk.

TV SHOWS: In Between, Queen of the South, Good Girls, The Village, Superstore, Manifest, A Million Little Things, Supernatural, Modern Family, New Amsterdam, How to get away with Murder, This is Us, Game of Thrones and Orange is the new Black.

BOOKS: Some of my favorite series are All Souls trilogy, Hunger Games, Dresden Files, I am number Four series, Harry Potter books.

***according to Pottermore***
**My Hogwarts House is Hufflepuff and
**My Ilvermorny House is Thunderbird
**My Patronus is a Red Squirrel

I love to read anything and everything whether it be romance, self help, mystery or non fiction.

Okay now to the nitty gritty:

I like:
all kinds of stickers except reward stickers

postcards

tattoos (i currently have 4)

tigers

owls

note cards

washi tape

Extra gum (peppermint flavor)

stencils

punches

chipboard

buttons

brads

Burts Bees lip balm (mango, pink grapefruit or coconut pear)

eyelets (now that I have an eyelet setter),

ribbon

fabric

decorating magazines OK any magazines cause can always cut things out for later use

black and white photography

mod podge

rubber stamps (wood mounted, clear and foam)

scrapbook paper whether it is 12x12, 8 1/2 x11 and 6 x 6

glossy accents

rub ons

LOVE A.C. Moore, Michaels, Joanns and Walmart gift cards as well as getting craft supplies for cheap at Dollar Tree.

and last but not least I LOVE Gerbera Daisies!

STUFF I DO NOT LIKE

FLAKERS...I DO NOT FLAKE
(if you do not receive an assigned swap from me please send me a message so I can make good on it)

anime paper

anime anything

anime stickers

flock (i do not get it)

baby stickers

I have Meniere's disease and CANNOT have caffeine, alcohol, tobacco and am on a low salt diet.