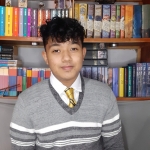 Surprises sent:
5
Surprises received:
5
Surprises in progress:
1
Country:
Philippines
Languages:
Tagalog and English
Member since:
03 December 2020
Last activity:
06 May 2021
Hello. I'm John, 24 years old. I am a tourism graduate. I just found out this website through a youtube video and find it interesting to receive surprises. I've been collecting postcards since 2017.

My hobbies are reading, watching movies, listening to music, collecting stamps, starbucks cards, postcards, fdc, airplane model, harry potter books and a lot more.

Since this is a surprise, anything you send will be appreciated. In case you want some hints of what i would really like you can send Harry potter related items, postcards (please write something in it and leave the address and stamp area blank), coffee/tea, ref magnets, stickers/washi tapes samples, ticket stubs (like train, bus, airline, movie, amusement park and others), tourism leaflets from your country, advertisement postcard, coins/banknotes are also welcome and other surprises. You can also add letter so I can know you more.

Thank you.