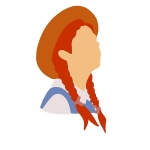 Surprises sent:
19
Surprises received:
19
Surprises in progress:
3
Country:
Netherlands
Languages:
dutch, english
Member since:
12 September 2021
Last activity:
02 July 2022
My name is Anicka, love to send happy mail! Love to receive as well and so my biggest wishes are things to make happy mail with like postcards, stickers, washi etc. Not a very big fan of touristy things.
Love book theme, postal theme moomin, fairytales, Mary poppins, Sherlock , daddy longlegs and Ann of the green gables
Also love letters!