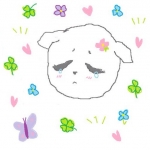 Surprises sent:
2
Surprises received:
1
Surprises in progress:
0
Country:
Russia
Languages:
Russian, English
Member since:
23 May 2022
Last activity:
06 August 2022
Hello everyone! My name is Victoria, I'm 22 y.o.
I'm a homebody and I talk to my cat and plants :D
I really like a coffee and a black tea, cute things and green\pink colors...

(Sorry for my poor English :,0 )

I will be happy to receive a postcard with:
- Cats;
- Foxes;
- Botanical illustrations;
- Anime;
- Moomins;
- Witches, dragons, fairies;
- Mushrooms...

Also I like beautiful stamps, cute stickers and bus tickets...