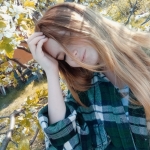 Surprises sent:
3
Surprises received:
2
Surprises in progress:
1
Country:
Russia
Languages:
Russian, English
Member since:
26 September 2020
Last activity:
31 December 2020
Hello!(*´▽`*)
My name is Ekaterina. Big fan of tea and cute things :з Dreaming of going on a trip as soon as I graduate from college. I like to immerse myself in books in my free time, series, anime, cartoons and films.
I would be glad to get something on the subject of Harry Potter, cats (as well as other cute animals), comfort. Stickers, coins, bookmark for books, tea, postcards, postage stamps, letter and other little things that I will be very happy to see.
Have a good day!