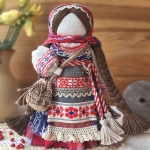 Surprises sent:
2
Surprises received:
1
Surprises in progress:
0
Country:
Russia
Languages:
Russian
Member since:
04 February 2022
Last activity:
13 August 2022
Hello my friend!My name is Elena. I will be glad to receive banknotes and coins of the world in my
modest collection.Chevrons.

I collect postcards and stickers: National costumes and crafts of the peoples of the world. Jewelry.
Women 's fans .
Beautiful Dolls.Beautiful expensive cars .Chocolate and candy wrappers. Tea. I will be grateful to
you for adding to my collection)I am happy to do needlework : knitting .sewing.embroidery.
Creativity brings joy in life and inspiration !I like our wonderful planet Earth) nature.flowers.
I'm raising my son.
I wish you all earthly Blessings ! Be happy !! World peace !!!


Всем Здравия ! Меня зовут Елена. Я буду рада получить в свою скромную коллекцию банкноты
и монеты мира.Шевроны.Логотипы Авто.
Собираю открытки и наклейки: Национальные костюмы и промыслы народов мира .
Национальная кухня. Ювелирные украшения.Веера.
Красивые Куклы. Красивые дорогие авто .Обертки от шоколада . Буду благодарна
вам за пополнение моей коллекции )С удовольствием занимаюсь рукоделием :
вяжу.шью.Пробую вышивать .Творчество приносит радость в жизни ! )Очень люблю нашу
чудесную планету Земля ! Наш дом ! природу.цветы.Желаю вам всех
земных Благ ! Будьте счастливы !! Мир во всем Мире !!