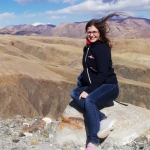 Surprises sent:
2
Surprises received:
2
Surprises in progress:
0
Country:
Russia
Languages:
Russian, English
Member since:
24 March 2021
Last activity:
03 May 2022
Hello!
My name is Olga. I'm from Siberia. I'm postcrosser. I like postcards (unwritten please) and stickers. I like reading and I collect bookmarks. Also I collect birdeckels (beermats) and local regional tea bags.
Please write me a small letter about yourself - any random 5 facts about you, what makes you happy, what are your hobbies or something else :)
Looking forward to get your surprise!
Take care!