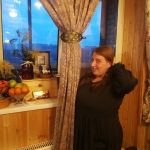 Surprises sent:
2
Surprises received:
1
Surprises in progress:
0
Country:
Russia
Languages:
Russian
Member since:
05 March 2021
Last activity:
13 May 2021
Hello, my name is Ekaterina,very glad to meet you!
I will be happy with any postcard I received!

I like watercolor, picturesque postcards, beautiful illustrations, drawn, with kind animals: hedgehogs, bears and many other animals.

Postcards with cats (I have a favorite pet - green-eyed white cat Senya)

Fabulous cards with moomins

I like cute angels,fairies

Beautiful flowers

Postcards - recipes

Cards with mushrooms

Postcards characterizing the culture of your country

I really like the decorated turnovers on postcards,art mail
please draw on the back of the postcards, you will do it very well :-)

Good attitude to hand made postcards

3D postcards

curly postcards

Please send postcards with beautiful sights

Surprise envelopes with attachments characterizing the country of the sender. I also really like to drink tea with sweets = :)

Let the postcard will be kind and not vulgar

Hobby-collecting coins and everything interesting and favorite postcrossing!(You will make me extremely happy if you send me a small coin of your country in an envelope on fulfill desires!:)

Dear fairies and wizards, I wish you wonderful, welcome postcards and that your magic mailbox is never empty!

Let's give each other happiness

Birthday September 5

My friendly instagram (katerina050986)


Thanks for the pleasant joys.