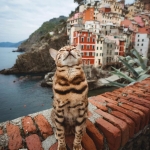 Surprises sent:
1
Surprises received:
0
Surprises in progress:
0
Country:
Russia
Languages:
Russian, English
Member since:
06 March 2021
Last activity:
14 April 2021
Hello! My name is Anastasia! I live in Russia, in the beautiful ancient city of Pskov.

I love to travel! I admire the new beautiful views, nature, and architecture. The sea relaxes me.

If you live near the sea, I will be happy to receive a postcard with a view of the coast. I love typical tourist postcards.

I love cats very much! I have two cats! They're wonderful.

I really like collecting stamps! Especially cats, New Year and Christmas, other animals and nature, famous people, beautiful mini sheets.

I will be glad to see images of Frida Kahlo.

I like to read and collect all sorts of little things, so you can send me a postcard in an envelope, and I will be very happy if you put there birdekel beer mugs (I collect them for my husband), I want to collect coasters from all over the world, tea, any stamps and all the little things of your country, stickers, stickers, book bookmarks (I like to read) or coins (please pack the coins as best you can)! I will be grateful!

Have a nice day!