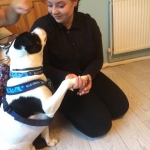 Surprises sent:
2
Surprises received:
0
Surprises in progress:
0
Country:
United Kingdom
Languages:
english
Member since:
04 December 2018
Last activity:
18 January 2019
Hello everyone, nice to meet you all!
i'm kia, im 24 and i live in a small village in south wales in the uk.
i study forensic science in uni and i work in a bar,nightclub,restaurant.

I am a huge believer in the power of random acts of kindness and i try to do one whenever i can but im always on the lookout of new ideas on how to do them so i would love it if you could share your ideas and ones you've done or had done for you!

I like pretty much everything and no piece of mail is unappreciated but i especially like sharks, dinosaurs and anything to do with the sea, i really don't like liqourice.

i really love to learn about all different languages, in the future i would love to live in many different countries.