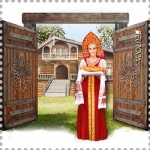 Surprises sent:
6
Surprises received:
5
Surprises in progress:
2
Country:
Russia
Languages:
German, English, Russian
Member since:
12 September 2019
Last activity:
09 December 2019
Hello!
My first name is Olga. I from an ancient Russian city Kostroma.
I love pleasant surprises in my mailbox.
I love booklets - guidebooks from museums, unwritten cards, something green or blue, stamps, stickers ,clippings from the newspaper, photos, interesting things with your language on them.
Thank you!