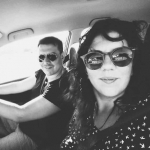 Surprises sent:
1
Surprises received:
0
Surprises in progress:
0
Country:
Greece
Languages:
English - French - Greek
Member since:
27 August 2020
Last activity:
15 September 2020
Addicted snailmailer. 34 years old and an architect. I love everything about Japan, cute stationery, especially flowers and stamps and stickers. You can send me anything you feel right at the moment, as long as it's prepared with love <3
I am a huge book lover and enjoy watching movies and series with company.