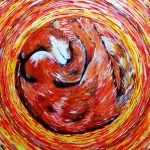 Surprises sent:
2
Surprises received:
1
Surprises in progress:
0
Country:
Russia
Languages:
russian, english
Member since:
12 September 2019
Last activity:
23 October 2019
Hello. My name is Irina. I'm 39. I live in the suburbs of Yekaterinburg - a city on the border of Europe and Asia with my son (10 years), husband, two cats and a dog.
I love to draw and read, so I love cards with modern art and illustrations, also maxicard, handmade cards and your drawings, cats, bears,rabbits, moomins, scandinavian and finnish gnomes and tea:)
But even more I love surprises :)
I will be glad to any of your message :)

Good luck and many pleasant surprises!