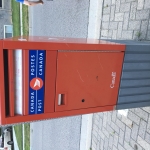 Surprises sent:
1
Surprises received:
1
Surprises in progress:
0
Country:
Canada
Languages:
English
Member since:
04 September 2019
Last activity:
25 September 2019
Hello!

I live in Canada and have been snailmailing and swapping for over 25 years!
A few of my favourite things are unicorns, hello kitty, sanrio, scooby- doo, greyhounds, flamingos and black cats- and anything mail themed

I love (and use) letter sets, postcards, stickers, address labels, washi......